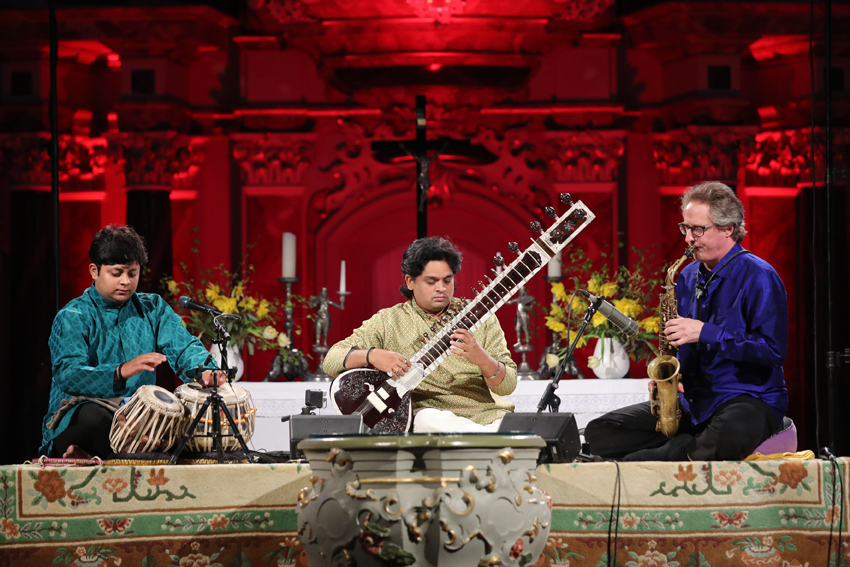 Deobrat Mishra – Sitar
Roger Hanschel – Saxphone
Prashant Mishra – Tabla
"Exciting, virtuosic, sensual, beautiful!"
There has been a force of gravity between Indian classical music and jazz for many decades–the push and pull of improvisation, the exciting rhythmic language. Founded in 2014, the Trio Benares continues on this path of tradition. As part of a seventh generation musical family, sitar player Deobrat Mishra has reached a prominent place amongst his peers. In collaboration with his nephew Prashant Mishra, a rising star among Indian tabla players, he forms a perfect unit. Roger Hanschel, surely one of the most extravagant, multifaceted saxophone players and composers of contemporary jazz, communes with the sensual and brilliant sound of Deobrat Mishra's sitar. In turn, Hanschel's rhythmic finesse finds its equivalent in the virtuosic tabla playing of Prashant Mishra. While steeped in tradition, Trio Benares brings a freshness to both musical styles.
"Indian soundscapes combine with jazz. Trio Benares expands this remarkable story with a new, utterly contemporary chapter. In Trio Benares, Roger Hanschel, well-known for his work in the Kölner Saxophon Mafia and crossover projects of a more Western type, broadens his knowledge of North Indian music at the academy of the award-winning sitar virtuoso Deobrat Mishra. Deobrat's nephew Prashant Mishra, a young star of the scene, came along with tabla percussion. Together the three have developed an energetic fusion that one has never heard like this before. Hanschel hopes to develop 'an original third story' out of these stylistic forms – mission accomplished, fully."
(For the jury: Jürgen Frey)
"In his new band, Roger Hanschel seeks an encounter with North Indian classical music. His trio Benares plays with a temperament and a virtuosity that can rip a listener out of his or her seat.
Lightning fast themes, rousing solos, clever innovations – we haven't heard such a convincing Indo-jazz project for a long time."
(Hans-Jürgen Schaal, Jazzthetik, July-August/2016)
"… the young, well-traveled Indians and the experienced Hanschel display virtuoso playfulness: They slide from the dance-like to the contemplative, break out of the fine beauty of predetermined, vocal topics into a frenzy of self-invention. The way Hanschel takes his lifelong experience of jazz improvisation and respectfully links it with the modal characteristics of the Indian tradition – this must be called unique."
(Ulrich Olshausen, FAZ, May 23, 2016)
"The Cologne saxophonist Roger Hanschel belongs to this small group of those who do not just scratch the surface, but go into depth in their encounters with Indian musicians. The trio Benares merges Western and Indian, with both sides approaching each other and without abandoning their own identity. Thus, it follows a tradition of Occidental-Indian cooperation by the greats such as the alto saxophonist Charlie Mariano, guitarist John McLaughlin and violinist Yehudi Menuhin."
(Werner Stiefele, Rondo Magazin, May 20, 2016)
"Together the three musicians play a high-energy fusion of jazz and Indian music, reminiscent of Shakti as if Mahavishnu McLaughlin played alto saxophone on speed. Accompanied by two Indians who cheer him on. That's terrific music firmly rooted in the present."
(Axel Bussmer, Kriminalakte, May 2016)
"… now, Hanschel takes up this thread. Along with Deobrat Mishra on sitar and Prashant Mishra on tabla, the saxophonist finally directs our attention to the potential of these soundscapes. The reduced cast focuses on Hanschel's imaginative themes, which he mostly unfolds with the sitar, has dance over the tight tabla background, and then opens up for solo exploration. The long-standing interaction between the two Mishras, uncle and nephew, specifically ensures an at times dense, at others very spartan tonal web. In particular, when the alto saxophone and the sitar come together in common solos, they spark up fireworks of counterpoint."
(Thorsten Meyer, Jazz Podium, May 2016)
"Sri Aurobindo Auditorium in Bharat Nivas, Pavilion of India in International Zone was crowded with music lovers who longed for something more. Although the title World Music Concert had promised maybe a bit more than a classical Indian music, what we got was a big surprise- an exciting fusion of Western European jazz saxophone with sitar and tabla.
The three excellent musicians brought some freshness and proved that music does speak universal language. Deobrat Mishra on sitar and Prashant Mishra on tabla both from a prominent family of musicians, and Roger Hanschel on alto saxophone known as a versatile jazz player showed that merging two styles can give something new…"  (Auroville Radio 29.3.2015)
"The duets of rhythms and tunes made the audiance to dive in the river of music and left them overwhelmed. In a program of europe-India musical evening district cultural commitee, Trio Benares and Navrang the duet concert was presented by young sitarist Deobrat Mishra who has been spread the musical frangrance all over the world and Roger Hanschel of Germany on saxophone who played in surprisingly and presented Kajari and made the people spellbound. Both presented Raag Jog, Garati and Bhairavi and made the people bathed in the showers of Heart touching musical recital."
(Times of India 27.3.2015)
"Music Lovers in the city were treated to a novel blend of jazz and indian classical music at the Assi Ghat with the musical group Trio Benares where the notes of tabla, saxophone and sitar together created some soulful music. The concert attracted a large audience who enjoyed the music in the open platform on the assi ghat."
(Banares Times, 27.3.2015)
Deobrat Mishra
Deobrat Mishra is no doubt one of the most energetic and innovative sitar artists of India. Selectivity, melody and rhythmic complexity are typical features in his lively playing style.
Born in 1976, he represents the 11th generation of the Benares Gharana tradition.
As a young child he studied tabla with his mother, Pramila Mishra, who is the granddaughter
of the well -known tabla player Pandit Baiju Mishra of Benares. He started by studying vocal music with his father at the age of five and began his sitar lessons a year later.
That same year, after only six months of studying the sitar, he gave his first public performance
on stage. Five years later, he performed for the first time on the All India Radio.
Since 1994 he has been touring throughout Europe with his father. In the same year he was chosen to receive the award of the best young sitar player of India by Youth Festival.
In 2000 he received the "Jewels of Sound Award"(Sur Mani) in Mumbai. His many projects
include music workshops, solo performances for radio and television as well as world music programs with Indian and European artists. Moreover, he is the one in charge of cultural events and music lessons provided by the Academy of Indian Classical Music,
the school he founded along with his father, Pandit Shivnath Mishra, in 2006.
He received a Masters degree in sitar from the Prayag Sangit Samiti in Allahabad.
In 2010 Deobrat Mishra played with Indian musician in Denmark for Global Voices of percussion.
Musicians from all over the world performed and Deobrat Mishra represent Indian music in this festival.
In June 12th 2012 Mishras create history of conducting Orchestra of 108 sitar players in Varanasi-
India. Total musicians where 151 including Tabla and Flute players. Music was created by Pandit Shivnath Mishra.
Among many other projects, the Mishras performed and recorded their music with the Western
Symphony Orchestra of Italy in 2005. Nowadays, they fully dedicate their art to similar projects including annual tours around the world.
Above all, the Mishras (father and son) serve as two of India's leading cultural ambassadors of our times.
Prashant Mishra
Prashant Mishra is one of the best young Tabla player of benaresGharana. When he was five he started to learn tabla with the family member of Biru Mishra of Varanasi also studying Tabla presently with Mr.Chakkan lal Mishra
(Student of Great Tabla player Anokhelal Mishra.
Soon after few years of hard practice with his grandfather Pandit Shivanath Mishra and
uncle Deobrat Mishra he was able to perform with Mishras his skills beautifully compliment and support the Mishras in their concerts and travel around the world with them.
In 2004 he won first prize in Tabla competition organized by Sangeet Natak Academy Uttar Pradesh India.He received many awards for his tabla playing at many different places.
Recent Posts

Recent Comments

Archives

Categories

Meta