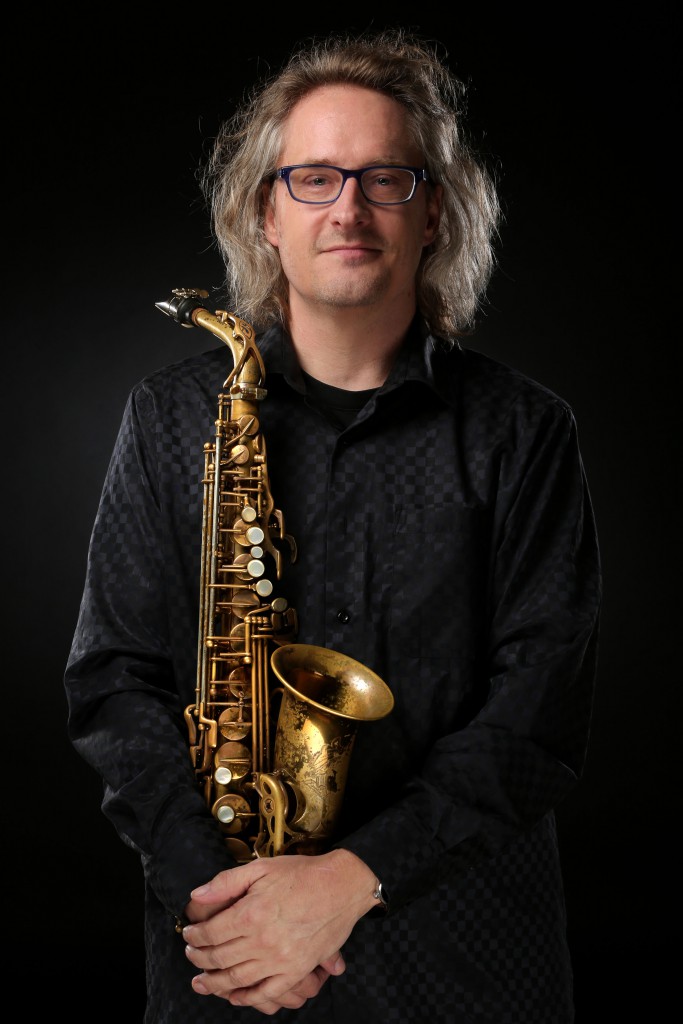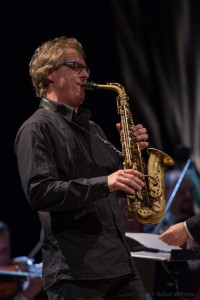 "In its attitude and musical transformation, Roger's music reminds me of the artistic work of the great German painter Gerhard Richter: indeed, there are very few musicians who can approach a compositional topic with such complete command of the material and instrument and who can work through this with an almost sober consistency and clarity, in both compositional as well as improvisational senses – and still reach such tender poetry and beauty in the end. For me this is a miracle and, at the same time, a logical consequence of unique and great art".
Heinrich von Kalnein, Graz
In 1989 Roger Hanschel worked out a saxophone solo program for the first time, on the sopranino. Whoever now listens to the recording of the then 25-year old, from the distance of over 20 years, will discover quite a bit of what characterizes the musician Roger Hanschel today: stupendous technique and virtuosity, personal melodic handwriting and a bottomless source of musical invention. But back then Hanschel closed this chapter for the time being and let the adventure of unaccompanied saxophone solo rest. Perhaps, thus, to mature as musician and human, to learn in different instrumentations and musical contexts, to go on a creative peregrination. For only he who has steeled himself as a human and developed into a musical personality can tackle this venture, solo music.
Now, thus, in the year 2011, Roger Hanschel takes up the thread once again, one he had laid by the wayside 22 years ago. This time, however, it is really his main instrument, the alto saxophone, he plays for the recordings of his 60-minute solo excursions. For Hanschel virtuosity is not an etude-like little show piece. Much more, his instrumental control places a tool in his hands to control the flow of his ideas, to make his musical cosmos come alive. Fascinating how his sound on the alto saxophone is still sharp and clear even in the highest positions. Intoxicating how he generates multi-voiced, broad tonal spaces using circular breathing and digital equipment, how he emotionalizes his music solely by compressing pitches, how he constructs the musical process dynamically, from very quiet to very loud.
Roger Hanschel's solo music is characterized by one thing above all: that the antithesis of composition and improvisation has been suspended. For him they are the proverbial two sides of a coin, with him as the intermediary and medium between the extremes. One results from the other: a piece of notated music can give Hanschel the impulse to play a solo leading far from the origin, just as he has his improvisation sound with forms, rhythmic patterns and harmonic structures, as if they were composed. So, he follows the original meaning of the spiritual guiding principle, "Karma": from cause and effect, continued into the infinite.
Martin Laurentius
"… his mastery on saxophone is legendary. Roger Hanschel, his alto saxophone and his compositions are a musical institution – and far beyond the world of jazz."
(Hans-Jürgen Schaal, Jazzthetik, July-August/2016)
"The alto and soprano saxophonist Roger Hanschel is one of the most recognized musicians of his instrument, and not only when one's talking about the German jazz scene. With his projects, Hanschel covers a spectrum from meditative chamber music to head-over-heels ensemble acrobatics. In all of his constellations, the saxophonist demonstrates a radical courage to take risks, both intellectually and emotionally. As the critics see it, Hanschel creates a music that stimulates both the gut and the head. His consistent tonal trademarks are his present tone, into the highest register, and his breathless phrasing. But not only is he known as a brilliant instrumentalist and imaginative improviser, in the meantime Roger Hanschel has also made himself an excellent name as an independent composer."
(Odilo Clausnitzer, Deutschlandfunk, July 2011)
"The main titles of the CD bear their character already in their titles: "Beruhigung" [calming], "Begebenheiten" [occurrences] or "Bewegung" [movement]. Hanschel couples them so cleverly after each other that a tension filled atmospheric arc, rich in facets, appears …. Even in the following he finds the right path between virtuosity and relaxation. When he performs with himself in contrapuntal dialog, the technique is always in the service of the sound. With him the instrument is not a producer of noise; the sound research is always motivated. After his last spectacular feat, he subsides after 57 minutes. A mature performance."
(Thorsten Meyer, Jazzpodium, April 2011)
"Hanschel displays the tonal possibilities of his instrument with powerful sound, phenomenal virtuosity and impressive aesthetics; he invents overwhelming tonal spaces when playing with lyrical motives and the use of samples and loops."
(ul, Jazzthing, April-May 2011)
"Another small tip on a great player, the Cologne saxophonist Roger Hanschel. On his solo album, Karmic Episode, he pulls all the stops between composition and improvisation, intuition and clear form, strong feeling, the depth of expression and intellectual acuity. Technically brilliant, Hanschel enthralls by his circular breathing and multi-voiced playing, wide spaces and unbelievable tender nuances. Phenomenal!"
(Lichtung, Michael Scheiner, March 2011)
Beautiful, swinging and exciting at the same time.
"Music that churns up the listener, but calms nonetheless, that confuses, but is still clear; music that is simply different: this kind of music is what Roger Hanschel presented in the evangelical church in Wipperfürth …. And this is the way he took his audience on a trip, which had its calm moments, but was also exciting and forced the listener to pay attention."
(Wipperfürther Rundschau, July 2009)
"Using diverse dramaturgy, Roger Hanschel sure enough put the numerous listeners in the desired contemplative mood in the stately church nave. The one-hour saxophone solo after the previous notated themes did not lack lively dynamic contrast, pulsing waves, jazzy pirouettes, flatter tones and figures like fountains. Tasteful was how the saxophonist included sampling techniques and had tonal buildings, built like terraces, grow. All the time, Hanschel included the expansive and well-known problematic echo in the St. Michael Church, as if he were at home here."
(uhr, Saarbrücker Zeitung, August 2009)
Messiaen meets Jazz – Solo concert by Roger Hanschel
"Today I had the pleasure of hearing Roger Hanschel's solo concert in the HfK [University of the Arts] in Bremen, Germany. In this program, he stands on the stage alone and demonstrates with his own compositions what kind of tonal variety is possible with the saxophone. Even I was overwhelmed and experienced umpteen new sounds. It began with a (what I had never heard before) real pppp (with an absolutely clear sound). One could hear the breathing of the listeners four rows behind, … overwhelmed by what one heard, which could be described as a fascinating fusion of Messiaenic tones and jazzy lines and figures. The entire bandwidth of his technical resources, such as circular breathing, split tones, and things I don't even have a name for, and tonal colors from the tenderest classical sound to screaming flageoletttes. Many of the especially withdrawn effects would have also fit into a funk solo. It was in the highest degree as virtuous as melodious. For me it was fascinating to hear how fairy-tale sounding moments crept into modern music. The only tool present was a looping station he occasionally used for effects, which very much reminded me of organum sounds of gothic cathedrals, or of traditional Indian music."
(Blog entry from the Saxophon-Forum, October 2009)
Recent Posts

Recent Comments

Archives

Categories

Meta