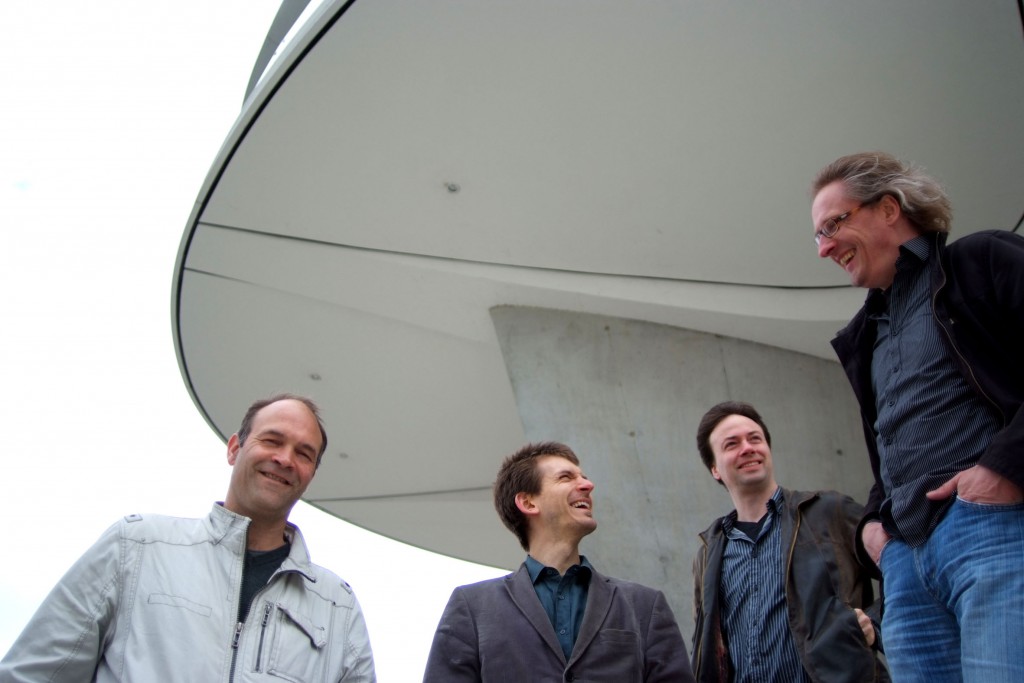 Roger Hanschel – Saxophone
Markus Segschneider – Gitarre
Dietmar Fuhr – Bass
Bodek Janke – Schlagwerk
In times in which it is increasingly difficult to press on into unheard-of tonal landscapes, creative heads are needed to make out the hidden interfaces of the already known. Among these keen researchers belongs the alto saxophonist Roger Hanschel, whose name has been closely connected with the Kölner Saxophone Mafia for over 20 years, and in which he has stepped out into all degrees of musical freedom.
His band Heavy Rotation is a further declaration of independence in the quartet format. Thanks to his persistent inquiring mind, he composes subtle connections between chamber music, jazz and rock. Into these syntheses, he breathes life and a pleasure of playing. Precision and passion are not contradictory for him. With Heavy Rotation, it is not a question of WHAT is played, but rather much more of HOW. The sound makes the music, and it is powerfully heavy, heavy and all right!
(Berliner Jazztage 2010)
"A strong and intensive album." (Mauretta Heinzelmann, NDR, 6/2007)
"… virtuosic music, powerful and sophisticated." (H.J. Linke, Frankfurter Rundschau, 7/2007)
"The condensation that this band reaches far away from the musical-linguistic norm is substantial, the precision admirable." 
(Stefan Michalzik, Frankfurter Rundschau 8/2007)
"…wide open, the music is stylistically far from disdainful populism, and it opens itself to the listener. Seriousness and entertainment pair up in an ideal way." (Sebastian Hansen, Offenbacher Post, 8/2007)
"The new disc [CD, Heavy Rotation] is sensational." (Dieter Dorer, Jazzclub Villingen, 9/2007)
"Heavy Rotation is thrilling and exciting music that one cannot simply turn a deaf ear to. Hanschel's compositions are intensive tonal puzzles of enthralling emotional weight–full of energy and peppered with surprising turns." 
(Klaus Mümpfer, Jazzpages 09/2007)
"One has to envelop oneself in this music many times in order to grasp all the external branches and inner connections." 
(Jazzpodium, 10/2007)
"Although his pieces are based on complex rhythmic structures and refer to the harmonics and melodics of new music and the avant-garde, they sound neither aloof nor intellectually undercooked. These four do their band's name credit and sometimes actually rock with powerful grooves and juicy riffs, which one would have rather expected in rock and heavy metal." 
(Martin Laurentius, Jazzthing 11/2007)
"Hanschel counts among the virtuosic saxophone players in the country. He loves the sounds above alto and masterfully conveys their melodic suppleness; what's more, again and again he searches for the threshold of sound and technique with breathtaking flights of improvisation. With his Rotation music, Hanschel clearly refers to the European music tradition and uses fewer Afro-American idioms. A music mixture emerges that is full of 
tension and, above all, full of surprises over and over." 
(Friedhelm Schulz, Südkurier 10/2007)
"Fascinating."  (uhr, Saarbrücker Zeitung, 10/2007)
"In fact this music has the advantage of being catchy, has warm, friendly melodies and is supported by harmonics that neither serve nor curry favor with the listener, but rather is always served willfully. This unconventional album is really idiosyncratic and original."
(Gitarre&Bass, 1/2008)
"This album has to surprise everyone who thought he or she knew who Roger Hanschel is–from 20 years of the Kölner Saxophon Mafia, from his duo with Gabriele Hasler, his project Triosphere or the Frankfurt Contemporary Quartet. 'Heavy Rotation' goes against the grain, and it's one of the best German jazz productions of 2007. The genre is being renewed – one only has to know where to look."
(Michael Rüsenberg, WDR, October 2007)
"Ingenious tonal storms. The band leader, who penned all the pieces, is a great composer,to which one recognises his academic studies, but whose music, however, does not sound overly cerebral. Exuberant fantasies, the musicians' virtuosity and unbounded joy of playing: all these lead, again and again, to an unbelievable density, dynamics that can hardly be increased, and incredibly intoxicating tonal orgies. Bravissimo." 
(Peter Bastian, Badische Neueste Zeitung, April 2008)
"Thanks to the homophonic, partially parallel voicings of both melody voices of the saxophone and the electric guitar, a nearly chamber music-like tonal depth emerges. Supported by a virtuosic double bass and drums, the latter of which was supplemented by hand drums, rattles and other percussion instruments, Hanschel's compositions live from sophisticated dynamics and beautiful plasticity. Musical images emerge that, without having to be parodic in any way, excite the fantasy and imagination. Here, one hears saxophone music in the form of an Italian concerto – virtuosic, sonorous, and with melodic richness." 
(Liane Bornholdt, Volksstimme Magdeburg, April 2008)
"… young, serious, delicate and soulful music. A band with an extreme bandwidth in extreme quality."
(rmr, Passauer Neue Presse, November 2008)
"Heavy Rotation is the title of this fascinating project, in which contemporary classical music encounters rock, both of which are unified into first-class jazz through Hanschel's delicate and yet powerful compositions. The musicians play extraordinarily chamber music-esque, weave themselves into the musical tissue, and then leave it, to dash off to daring solo improvisations , all the while displaying a great sense of alertness and presence. Never are there any musical fractures in the pieces, instead the basic patterns transform into more and more colorful images …. And when Roger Hanschel opens his eyes at the end of the piece, he looks into faces that bear witness to having experienced a jazz evening of excellent greatness."
(Dorothea Feuchtgruber, Passau pnp, November 2008)
"The Cologne saxophonist Roger Hanschel has created a sound that immediately takes you prisoner and yet does not become completely accessible until the end of the evening. Next to the extraordinary, tricky play with the musical units of time, the sound of the quartet and the virtuosity of the members give the audience the opportunity of listening attentively. No question: the four musicians, who have been working together since 2005, are crossover artists, combining jazz with new classical music, offering precisely composed pieces in addition to soloist freedom, which come from finely tuned interpretations …. Then the four virtuosos drive into a musical melee which only they seem to be able to see through; they are masters in lending the music an unbelievable drive forwards with the greatest vertical density. Forward, in the future, lies the new album, which will incorporate the works premiered this evening. And certainly other musical discoveries."  
(Bettina Schröm, Südkurier May, 2009)
"What inspiring moments arise when avantgardistic jazz goes hand in hand with an aesthetic connection to a manor house in the style of the Weser Renaissance"
Everything revolves around the compositional axis 'Hanschel,' but the solo passages rotate in equal stature and are not frozen around the saxophone.
Hanschel's compositions are not based only on complex rhythms or on harmonic and melodic structures, but rather captive listeners in particular by making unusual accents. The audience enjoyed a concert that spoke to nearly all the senses – exciting."   (Christoph Guddorf, Neue Westfälische, July 2009)
"The Cologne saxophonist Roger Hanschel of his current album Vin with his quartet "Heavy Rotation," released in December on JazzSick Records. At one point Hanschel dashes through sophisticated scales with an enormous sense of fluency, at others he seems to be looking at the inside of tones with a telescope and to then unfold them with all the time in the world. Virtuosic, sophisticated themes and free playing hold balance with a pleased honesty, which lets the fractures stand, unpolished. What predominates are melancholy sounds of enormous intensity, which represent a new expression of contemporary blues."
(Mauretta Heinzelmann, NDR, February 2010)
"A Grand with four."       (Martin Woltersdorf, Kölner Stadtanzeiger, February 2010)
"In the course of their existence, the band has grown together; the sound stands like a block, and yet is flexible and supple. In his compositions Roger Hanschel solders widths of dynamics between whispering and downright loud rock. Guitar and saxophone are woven together in melodies, whereas at times the saxophone joins into a percussive voice and gives the band precedence. Hanschel's compositions are very complex; they go right into the fringes of music, to the limits of instrumental, but not to the possibilities of the musicians. The four fly through the pieces and bring the listener along: this is not the music to get cold feet by (the band can be seen on the cover photograph with their feet in water), but rather it is important for both musicians as well as listeners to keep a cool head. A remarkable CD!"
(Angela Ballhorn, Jazzthethik, February 2010)
"… stepping forward as composer and instrumentalist in many other projects, Hanschel stands for subtle, chamber music-like jazz, which comes across as delicate as expressive and defines itself by the pleasure of experimenting with form and sound. With RHHR, all of this comes together, but sounds freshly different – on Vin, the second record of the quartet, the sound is even denser and more compact than on the debut. Intensive, exciting music, complex in its form and full of energy."
(Berthold Klostermann, FonoForum, April 2010  Music ****, Sound ****)
"Clever, easily marketable and attractive: Roger Hanschel's quartet bubbles over with ideas on its current album, Vin, and Hanschel confirms once again that he is extremely eclectic and innovative. The Cologne saxophonist creates his own sound with the compositions he wrote for this album. Without doubt, the four musicians belong to the first choice of professional jazz musicians, are brilliant in playing together and convince the listener through their soloist qualities. Roger Hanschel's Heavy Rotation is among one of the new pleasant releases, entertaining and listenable for everyone. "      (Volkmar Joswigr, Jazzpodium, May 2010)
"… a very independent and an extremely variable ensemble."
(ju, Gitarre & Bass, June 2010)
Recent Posts

Recent Comments

Archives

Categories

Meta